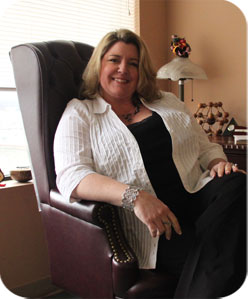 Dr. Heather McEachern is a registered psychologist in Kelowna, BC, who works with individuals and couples and also sees children and their parents. She has a broad training background and enjoys seeing people with a variety of concerns from personal to relationship to work stress. Therapy is a personal best fit with a client centered approach drawing from a diverse training background, including cognitive and behavioural techniques. Each client experiences strategies best suited to them, which also includes a review of their personality factors, their life context, and their goals.
Dr. McEachern has consulted for businesses with regards to marketing strategies, program development, and group interventions to improve system dynamics. Confidential consultation is available. She enjoys public speaking on a number of topics and has been invited to a variety of venues as far east as Montreal and to the northern reach of Whitehorse. She welcomes speaker invitations and small venues or large will enjoy her memorable style that is both informative and speckled with humour as she interacts with her audience.
Subjects for small work groups or larger educational forums (of both professionals and public groups) have included motivation, healthy personality goals, psychological factors affecting health issues, organizational improvements, depression, anxiety (stress management lifestyles), parenting strategies, and healthy marriages and families. She continues to say 'yes' to new venues. She is currently working on a book series with the intention to demystify mental health issues and provide practical solutions in short order.
Dr. McEachern consults with medical doctors, rehabilitation professionals, and lawyers for a variety of illnesses and injuries. She is an expert witness at all levels of Court in British Columbia and she has never been disqualified as such. She is a member of the College of Psychologists of British Columbia, the British Columbia Psychological Association, the Canadian Psychological Association, and the Canadian Registry of Health Service Providers.